Happy blogday to me, happy blogday to me, happy blogday dear Helen, happy blogday to me..!  You guessed it, it's my first blogday or first blogversary.  By Helen is one year old.  Time to celebrate with coffee and cake...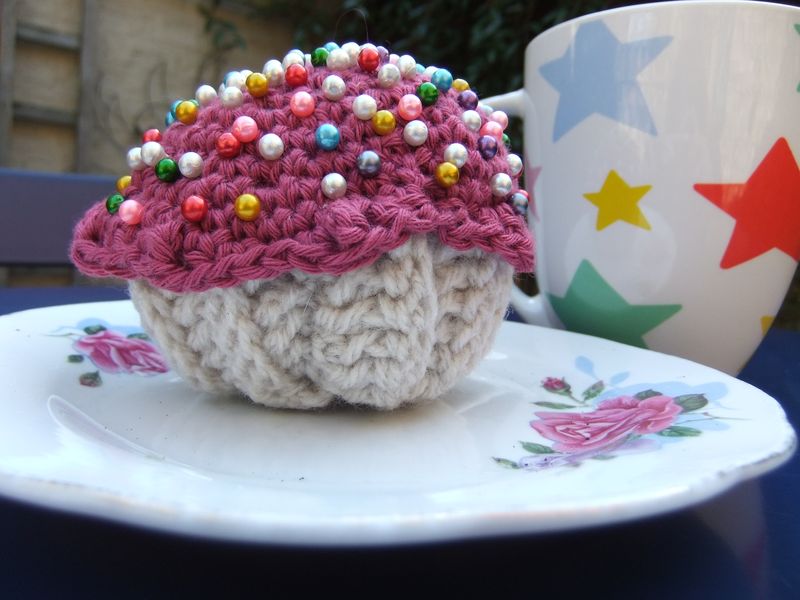 Crochet cake of course!  I thought  that I would share some of my highlights from the last year of By Helen, so here goes...
April 2011's highlight really has to be starting By Helen.  I had often thought about, and talked about starting by blog, but last April I actually did it.
In May Si and I visited one of our favourite gardens, Harlow Carr in Harrogate,  and I took one f my all time favourite photographs.
June saw me selling my first evey crochet brooch.  This was a real sale, not to a friend or family but to a real life person who liked what they saw enough to pay for it.
July was a MASSIVE month and it is really hard to decide on my highlight, so many good things happened.  I think my favourite thing was opening my garden showing how garden and crochet are a perfect match.
September's highlight is easy.  Our summer holiday in Florence.  A wonderful week walking around galleries and architecture eating pasta and drinking Chianti.
My favourite thing from October was the witchy kitty I made for Halloween.  I was sooo pleased with how it turned out.
Each November I love to make jam and chutney, something that can last all year.  We still have plenty left to see us through to next October.
I love December, York looks so amazing this time of year.  My favourite thing from December was making Starflakes for my Christmas cards.  Best of all I shared them with all my friends.
January is the perfect time for quick crochet projects and making things that will keep you warm, like the cowl I made.  I didn't expect to still be wearing it in April!
Again in February so many lovely things happened.  I made the gargoyle that my friend had knitted for my, I visited one of my favourite abbeys, but I think that the very best things was the snow.
My favourite thing from last month, had to be crocheting Daffodils.  I am so pleased with them and they are all my own design.
This months favourite thing is really a tie between two discoveries: cardamom and Mollie Makes I just can't choose between the two.
So here we are one year on and I have a say a massive, masSIVE, MASSIVE, thank you to all of you who take the time to read By Helen.  Please keep coming back for year two.
Thank you
xxxxxxxxxxxxxxxxxxxxxxxxxxxxxxxxxxxxxxxxxxxxxxxxxxxxxxxxxxxxxxxxxxxx