Following on from my last post, celebrating all things Septemberish, I decided to go out for a long walk to reconnect with nature and really enjoy the colours of Autumn.  In the UK, or at least in York, I don't think that Autumn has really taken hold: yes, the nights are drawing-in and there is a definite chill to the morning air, but I don't think the true colours of Autumn have shown us the best they have.  The trees are still hanging on to their greenness, with a few hints of what is to come here and there.  One thing that struck me, on my walk, was the amount of acorns fallen on the ground, which greedy squirrels were, well, squirreling away!  When I got home and got out my crochet hook, it seemed natural to crochet an acorn.  In truth, I have been thinking about crocheting an acorn for some time: to complement my crochet leaves and since I crocheted eggs for Easter, there is a logical link!
Here's what I did…
Gathered together lovely Autumnal yarn…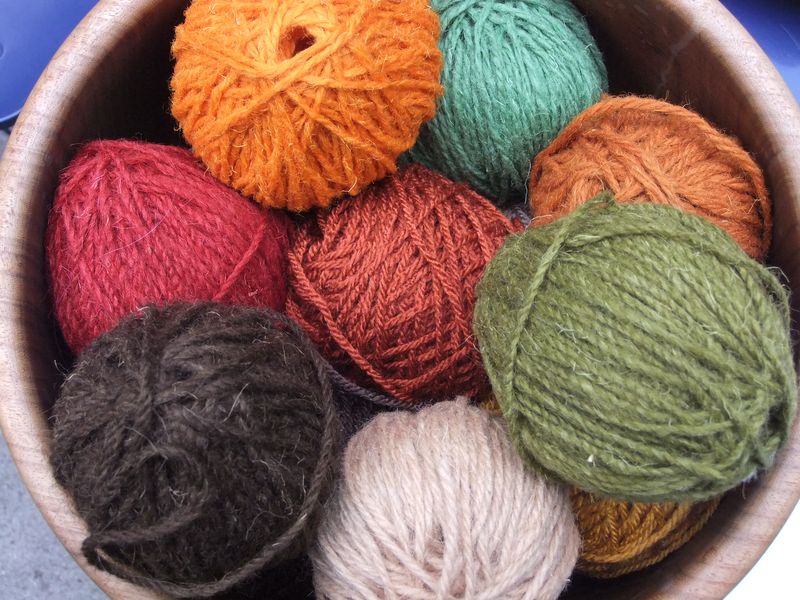 Gathered together everything that was needed: crochet hook (appropriate for the yarn), scissors and a range of polystyrene eggs…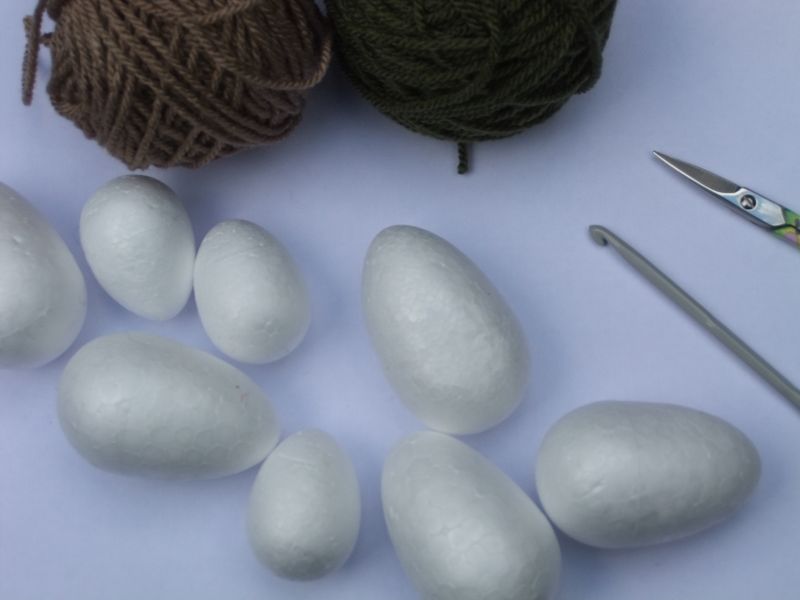 Begin with 4ch and then slst into each ch, to make the acorn's stem…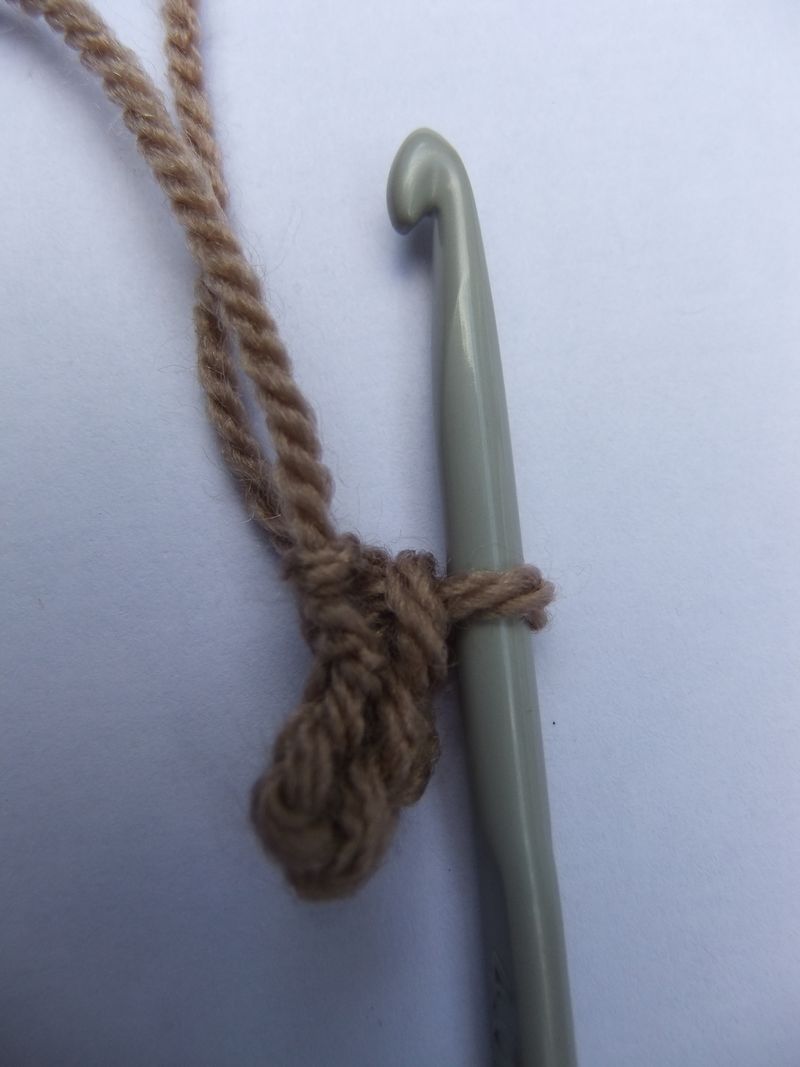 Into the last slst, 6dc and slst to join…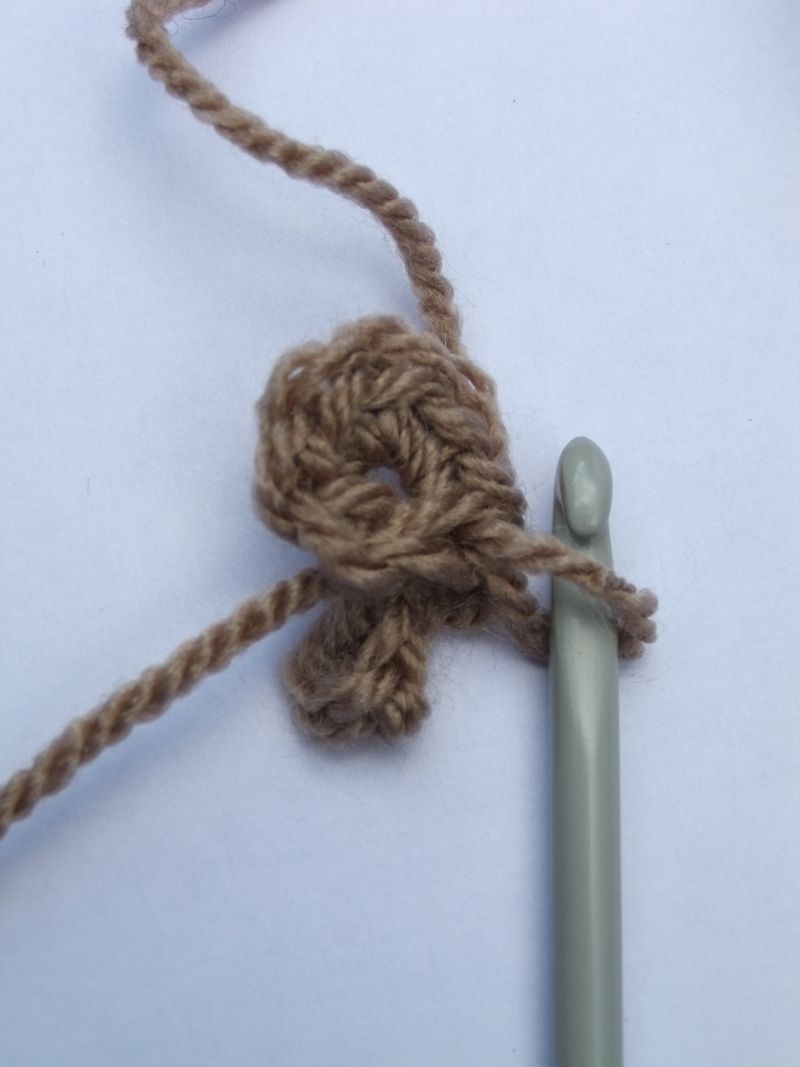 The next part of the pattern will depend on the size of your polystyrene egg.  What you need to do, is crochet a circle that your egg fits snuggly into.  By crocheting a circle I mean, after your round of 6dc
Round two: 1ch, 1 dc in same place as slst, *2dc, into each dc*, repeat *-*
Round three:  1ch, 1 dc in same place as slst, *2dc into next dc, dc into next dc*, repeat *-*
Rounds four: 1ch, 1 dc in same place as slst, *dc into next dc, dc into next dc, dc into next dc*,  repeat *-*
Hopefully you can see how to increase your crochet to get a good fit to your egg?  If not message me!  It should look something like…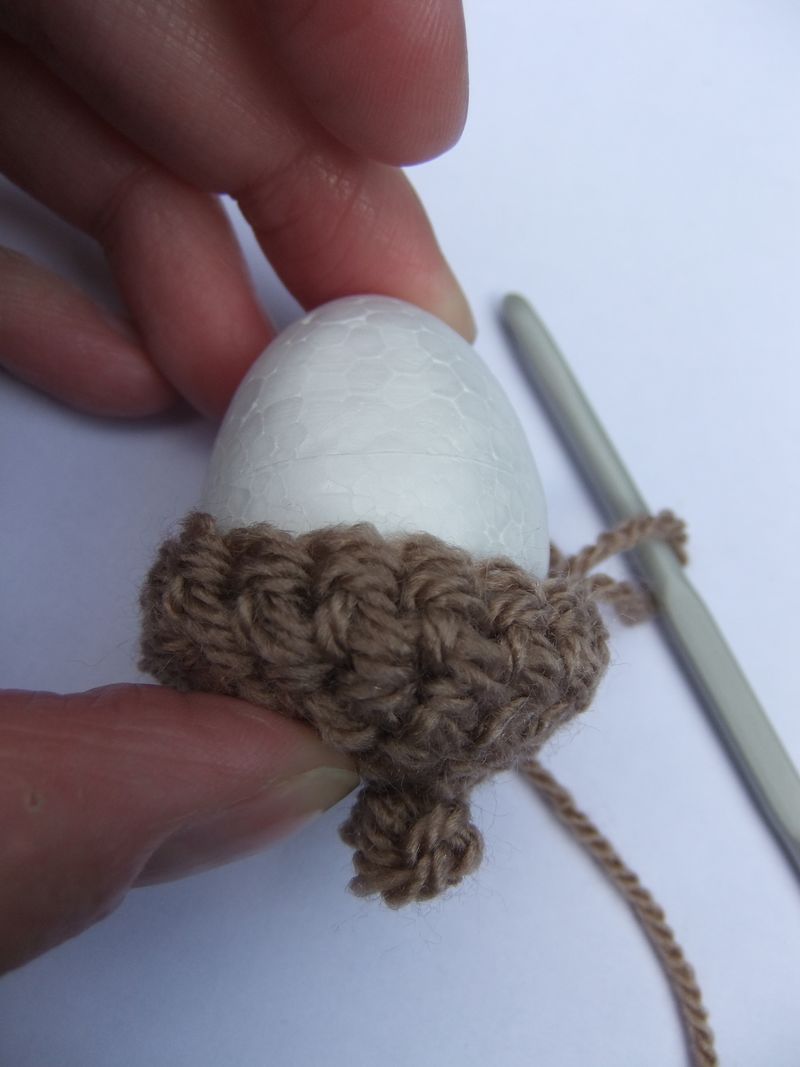 When you are about one-third up your egg, then change colour.  Join you new colour in the front loop, only (this is the one nearest to you)…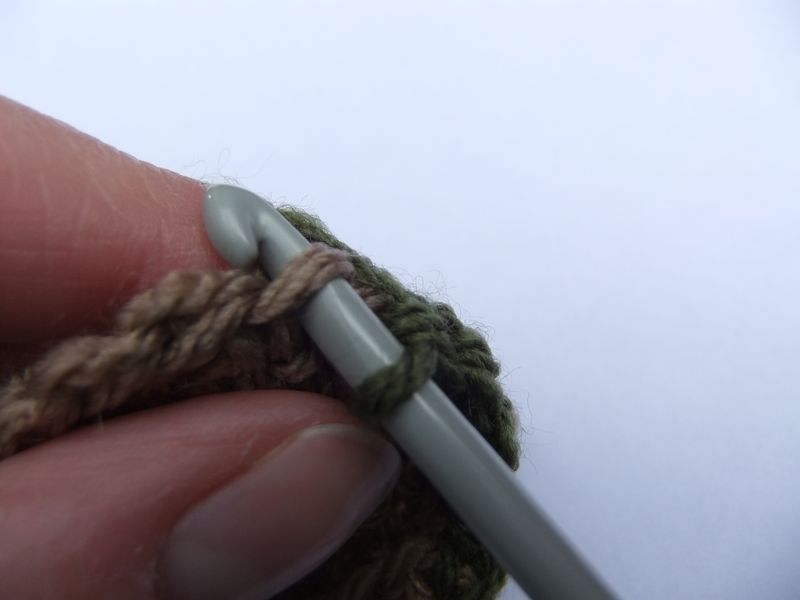 Dc into each dc, for the first round front loop only, after then dc into each dc both loops.  Keep checking that you egg fits snuggly into your crochet…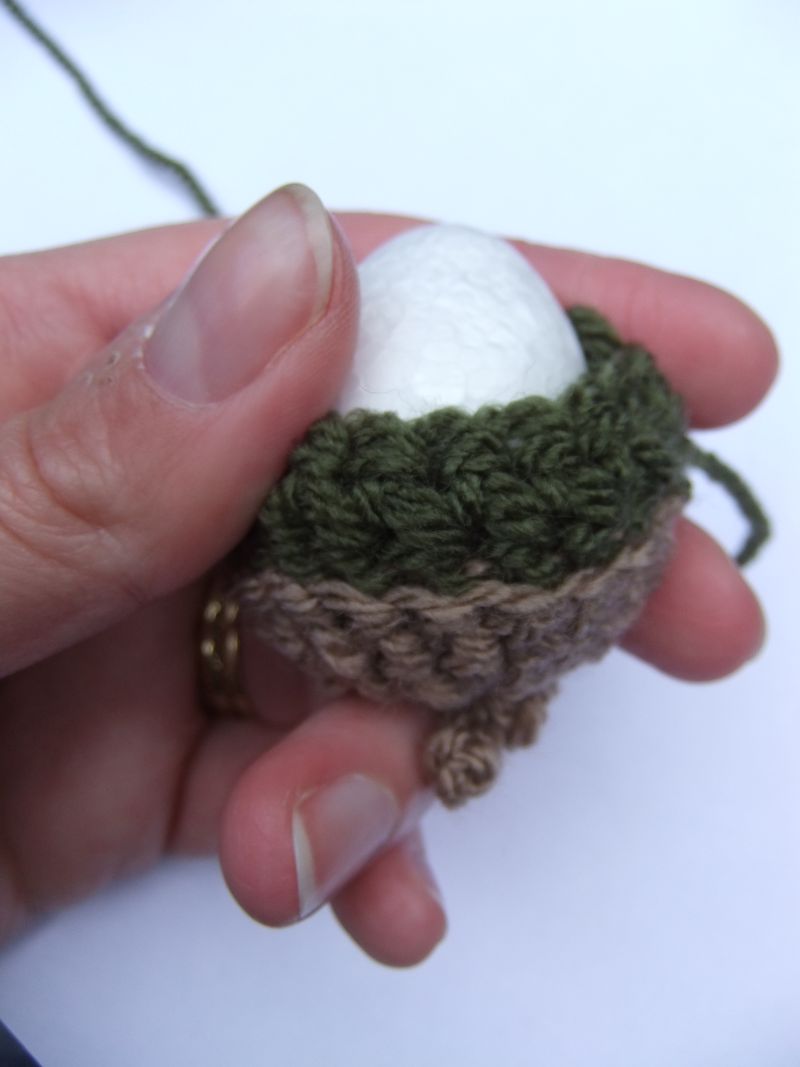 When you are nearly the top of your egg, keep your egg inside the crochet and begin to decrease…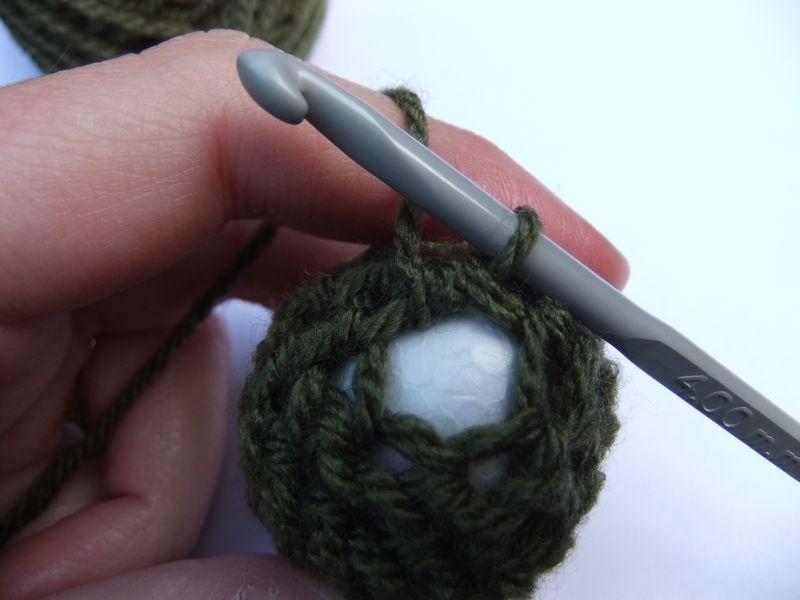 Keep going, until your egg is completely covered and you should have yourself a crochet acorn…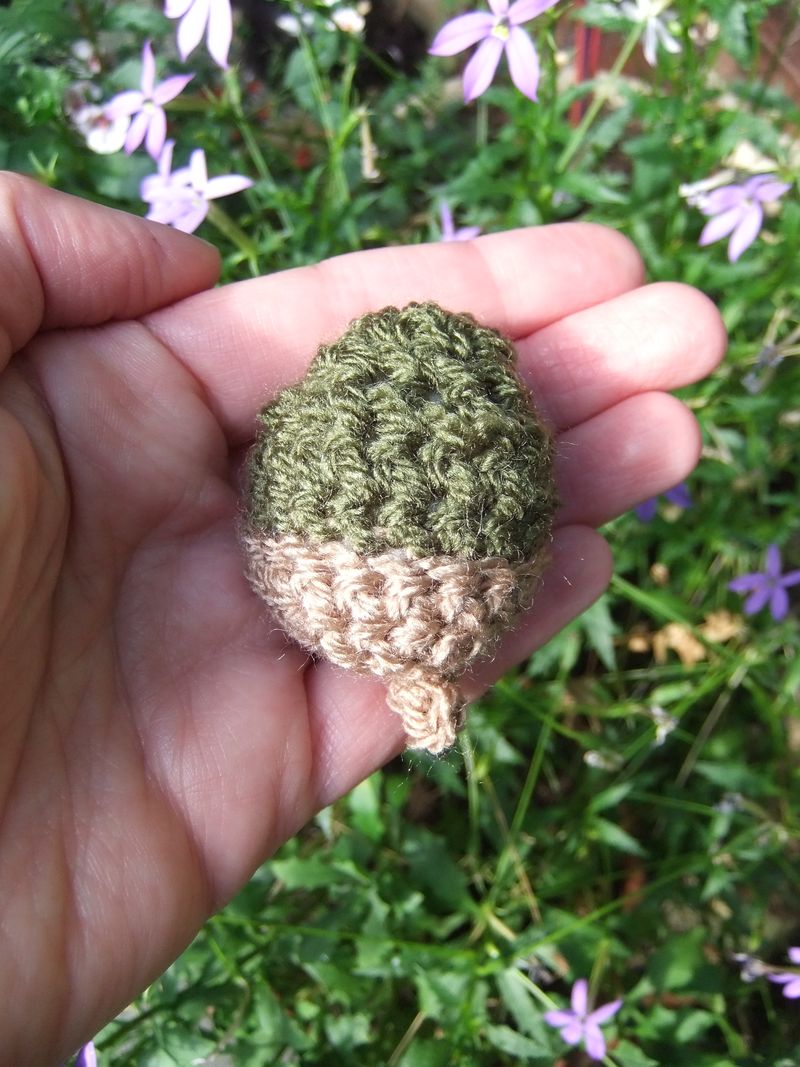 Hope that you get on ok? I know have tried really hard to write this pattern, so it doesn't matter what size egg you are working with.  Have a play with different sized eggs and with different colours.  Let me know how you get along.