It seems like ages since I blogged about baking, in fact it was way back in June .  That is not to say I haven't baked since then, I have baked lots and lots.  This last week Si has been a bit under the weather and I have to confess that I am not the best of nurse-maids.  I get frustrated, even though I know it is not his fault that he is feeling unwell.  I get annoyed that we don't eat together; Si seems to have existed to toast and tomatoes soup (from a tin).   Tonight I am going to tempt him with chicken casserole with herby dumplings.  Yesterday I decided to stop feeling frustrated and really treat myself.  I decided to bake something just for me.  I decided to bake an old favourite, something that my Grandma used to bake.  I decided to bake really posh sausage rolls!  I scaled back the recipe so it was just for me, just for one, and this is what I ended up with…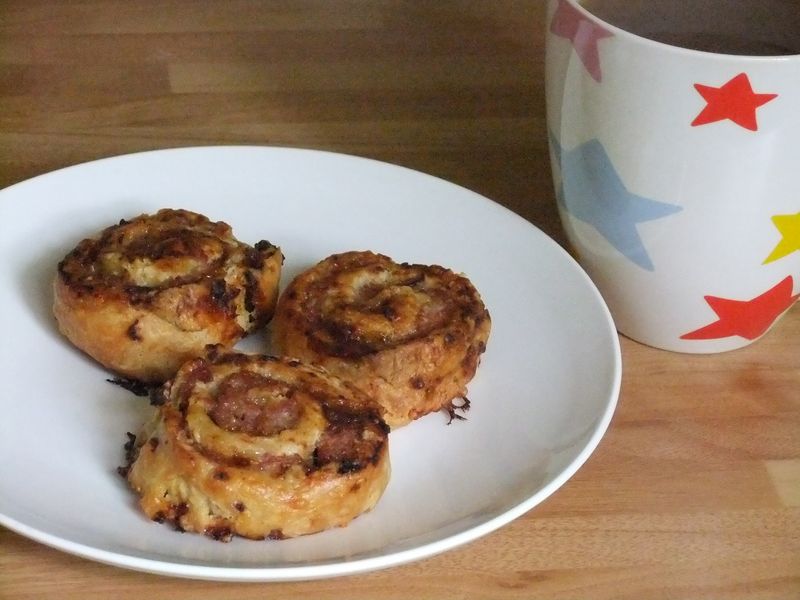 I would encourage you to make these, they are wonderful, perfect as a treat.  Here is the recipe that I made, just for me, but it is really easy to scale up to feed as many hungry mouths as you have.
For one person, you will need:
3oz plain flour
A pinch of mustard powder
1 1/2oz of butter, or margarine – whatever you have to hand
1oz grated cheese
1 egg – separated
Water
1 sausage – skin taken off
Chutney – I used some of my homemade tomatoes, date and apple chutney from last year
This is what you do:
Put the flour, mustard powder, butter and cheese in a bowl and rub together until the butter has incorporated into the mixture.
Add the egg yolk (keep the white you will need it later) and mix in.  Add a little water to combine the pastry together
Chill the pastry and then roll it out into a rectangle shape
Spread the chutney over the pastry rectangle
Spread the sausage meat over the chutney
Gently roll the pastry towards you, to make a big sausage roll
Cut the sausage roll into to equal slices and put these onto a lined baking sheet
Brush the egg white over
Pop in the oven and cook at gas 7 for 15 minutes then gas 6 for a further 15 minutes
If you can leave to cool for a few minutes (I struggle with this)
Enjoy!