Don't you just love buttons?
As a child I was fascinated by my Grandma's button collection: I'd spend hours rummaging through the box – finding different treats each time.  My own collection is pale, in comparison to Grandma's, but I do love it.  So, when my friend asked me, if we could incorporate buttons into crochet: my mind, literally, whirled with excitement.  I'll often finish off one of my crochet brooches with a button stitched into the centre: but I never actually tried to incorporate the buttons into the crochet.  What was not to love?  After a few attempts I came up with this…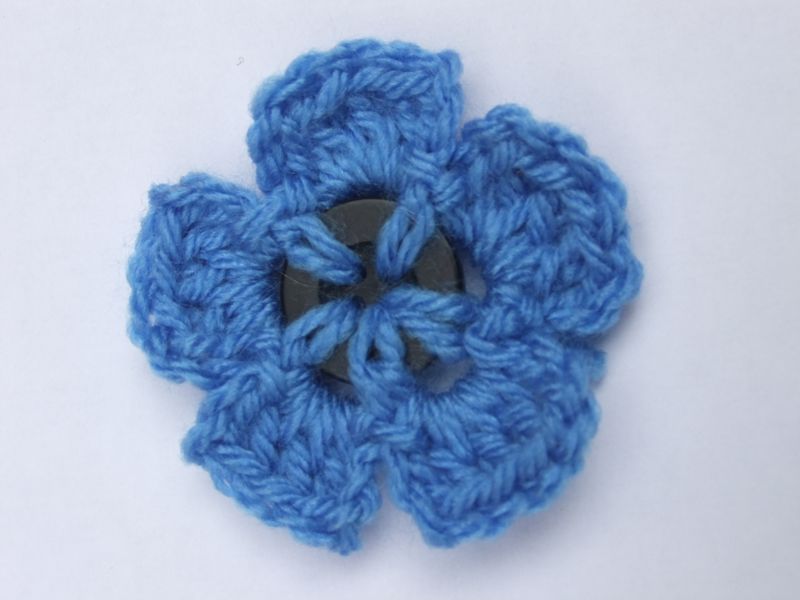 It is a work in progress.  There are parts which I'm not entirely happy with.  But I thought I'd share, what I've done with you: so you can combine the two very lovely things, of buttons and crochet, together. 
This "pattern" is more guidance, hence the pattern in inverted comments, than pattern as a lot depends on the size of the button that you choose and the yarn: but I'm sure you'll work it out. If not – let me know!
You'll need: a button (with four holes), yarn (I've used DK), a crochet hook suited to your yarn (I've got my trusty 4mm), a crochet hook that is teeny enough to fit through the button holes and some scissors…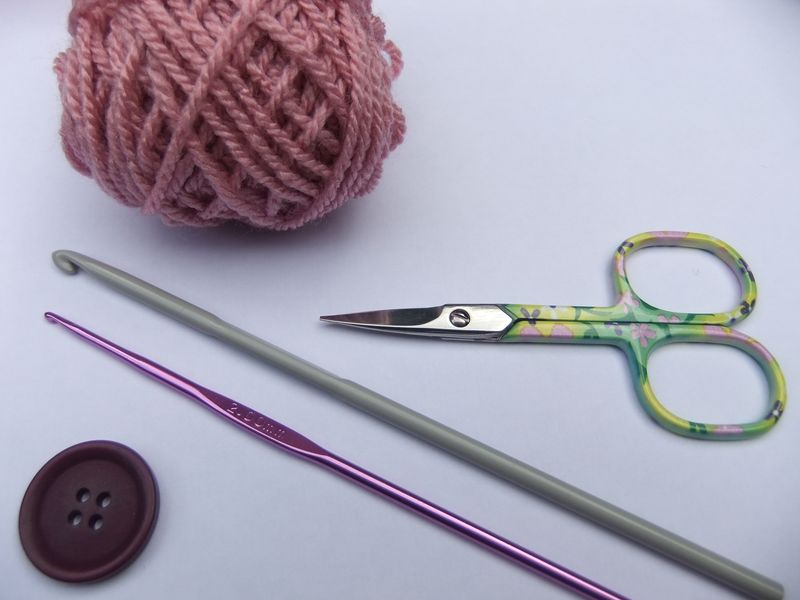 Use your teeny crochet hook to bring a loop of yarn though one of the button holes…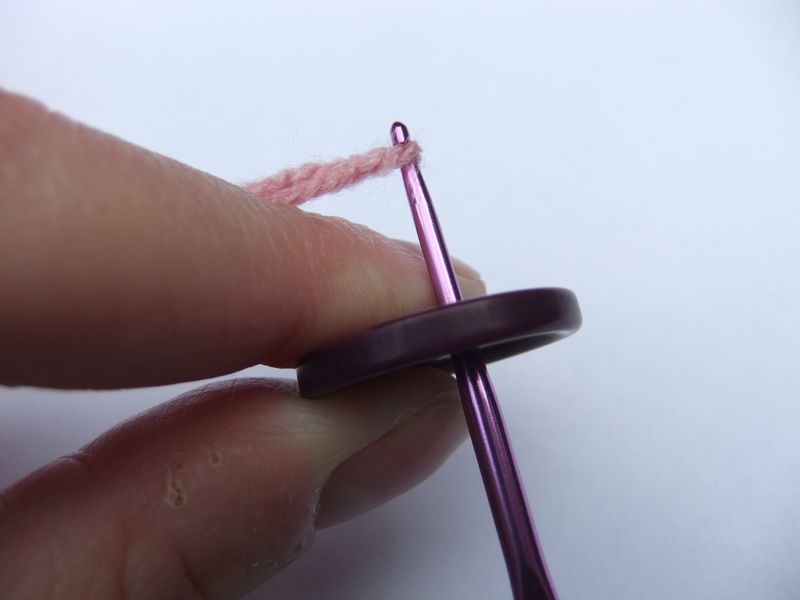 Use the tail-end of the yarn to chain to secure…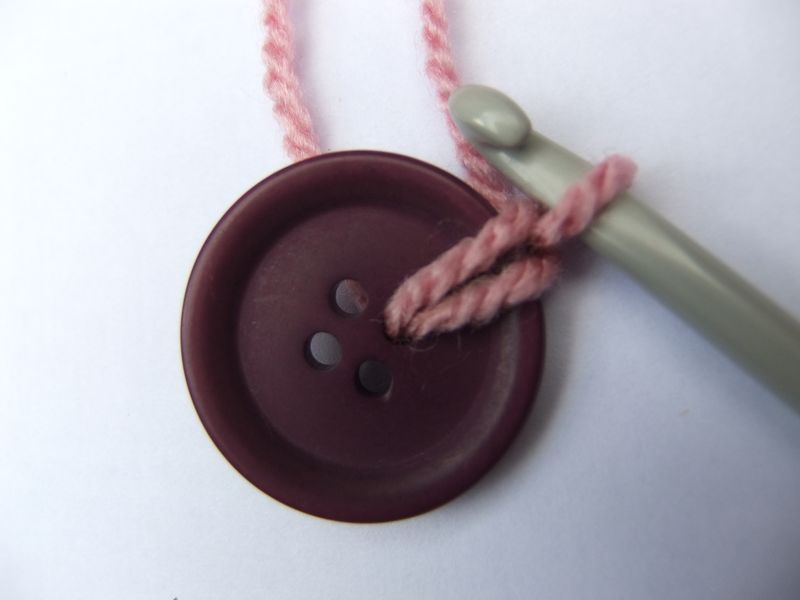 Switch to your yarn appropriate crochet hook.  Now you are going to crochet a chain space, which you are going to work your petals into.  Don't make it too loose.  I crocheted 3ch (more chains if you're using a bigger button and less if smaller)…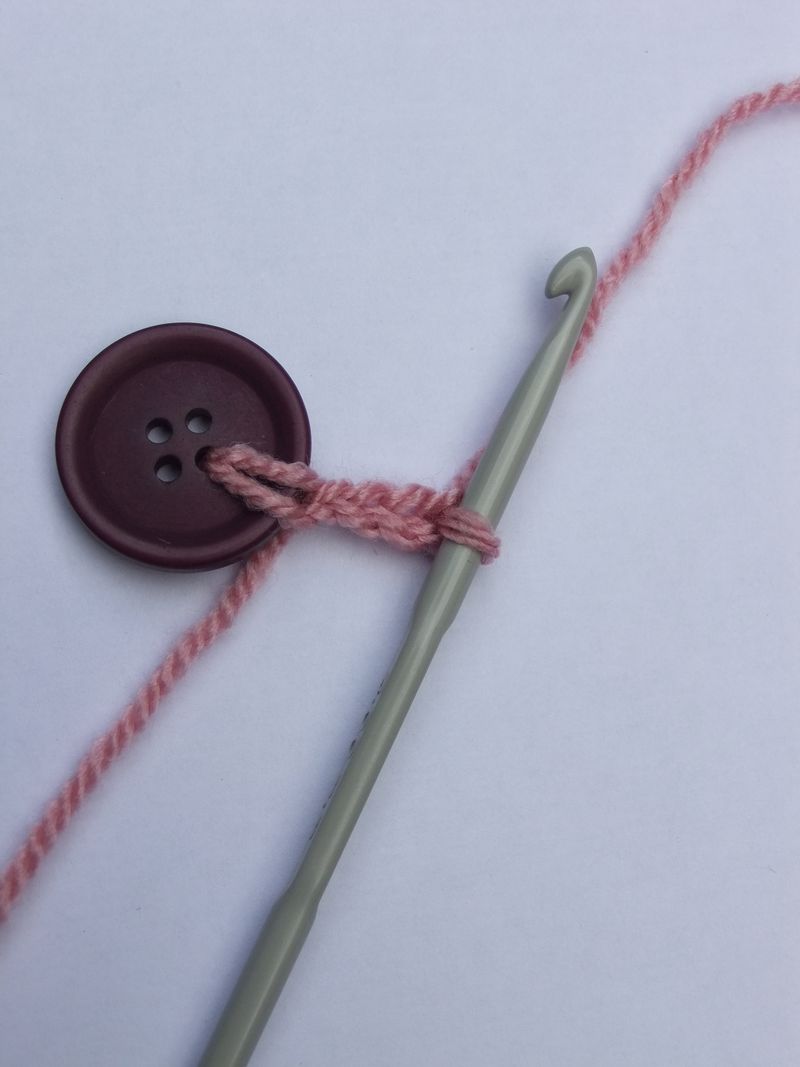 *Switch back to your teeny crochet hook and bring the loop up through the hole, until it reaches the top of the button…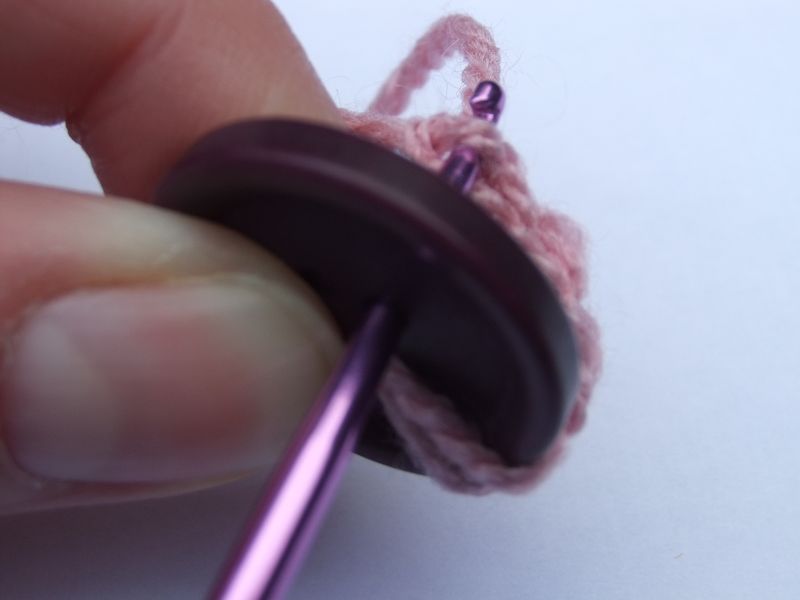 Switch to your yarn appropriate crochet hook.  Crochet your next chain space.  Don't worryif the chain spaces seem to move around and disappear, around the back of the button: it will all work out in the end. I crocheted 3ch (more chains if your using a bigger button and less if smaller*)…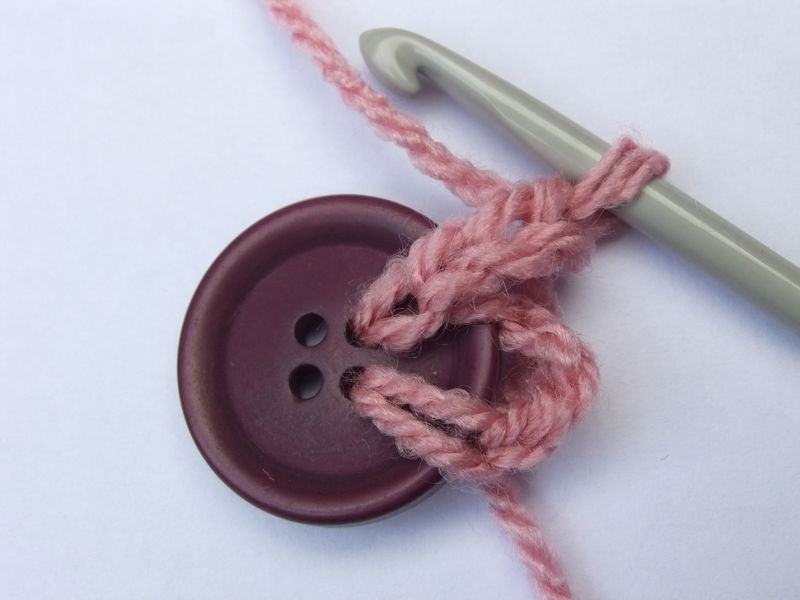 Repeat *-* until you have created five chain space.  This will mean that you have two loops coming out of one hole…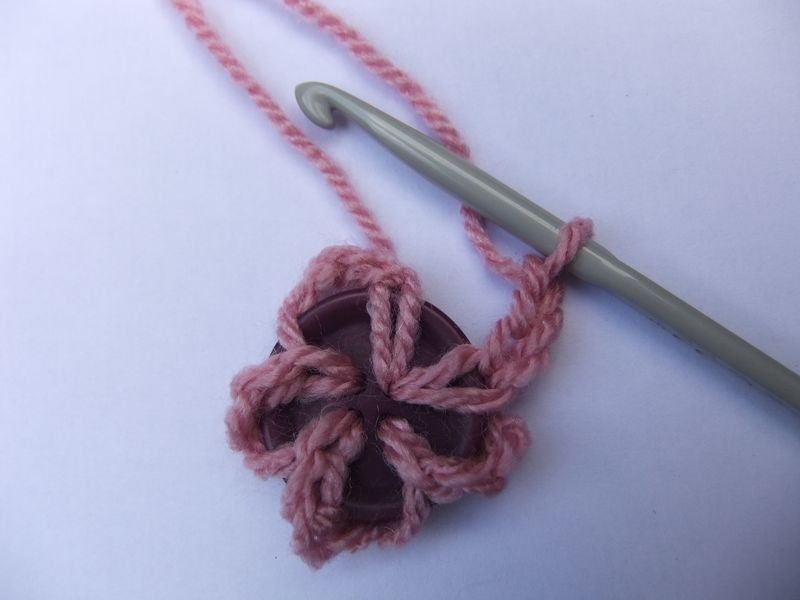 Slip-stitch into the first chain space to join together…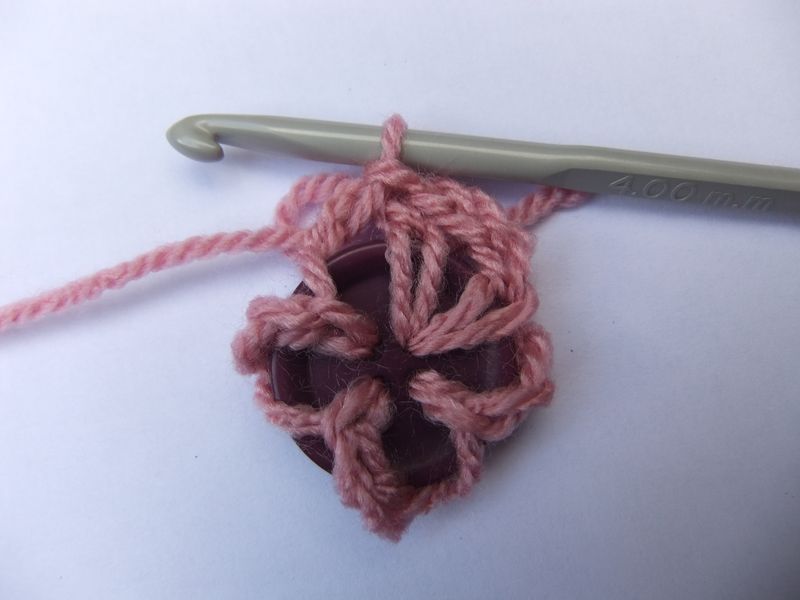 **Using your yarn appropriate hook, 3ch…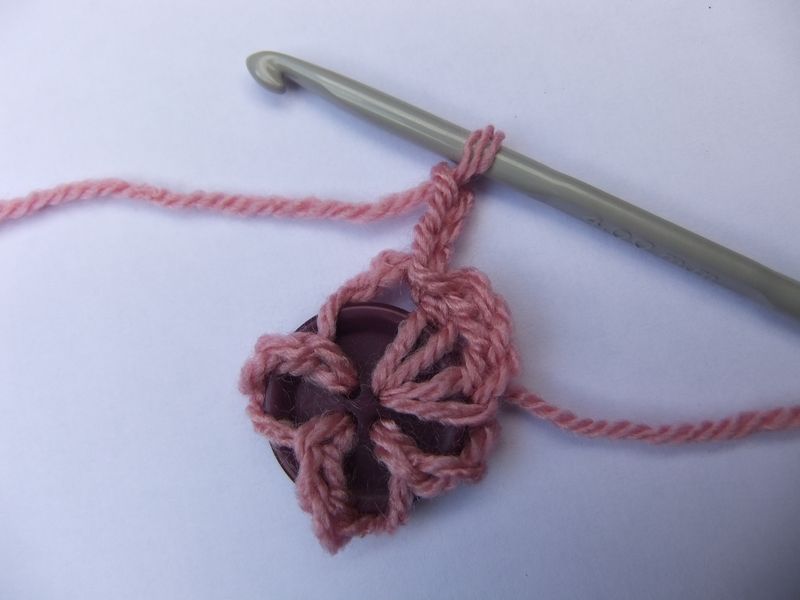 Crochet trebles into your chain space. It is up to you how many: I did 3tr…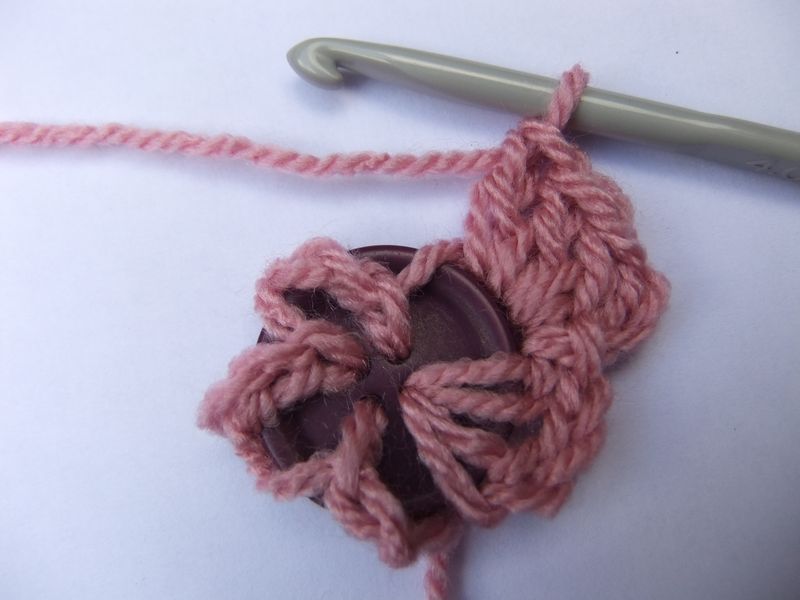 3ch…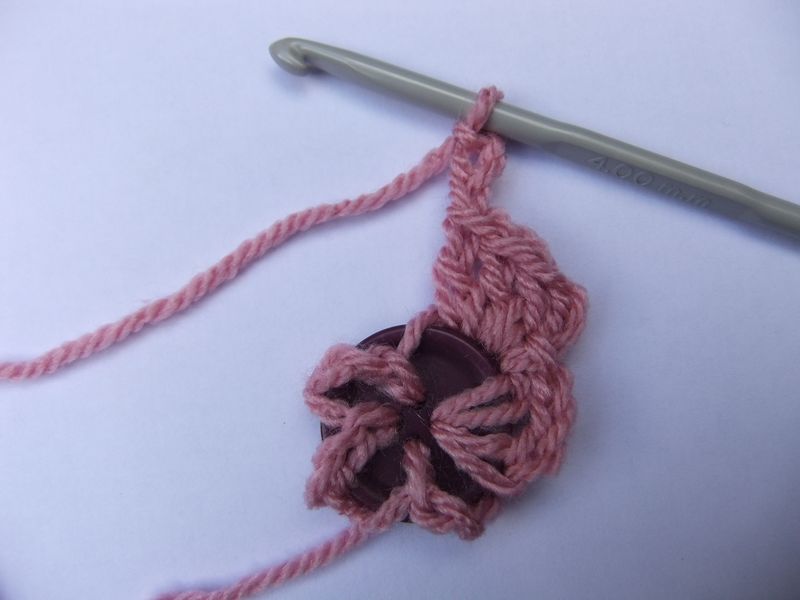 Slip-stitch into the chain space you've worked into and into the next chain space**…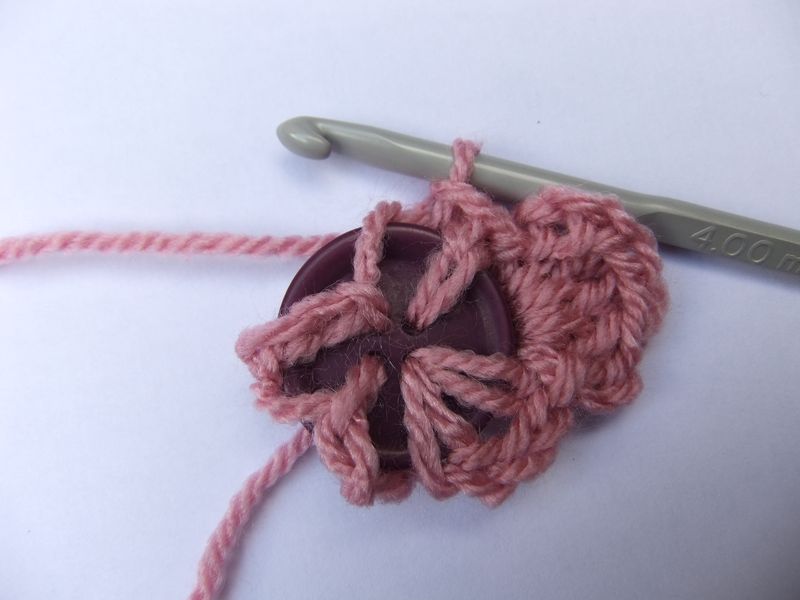 Repeat **-** until you have five petals…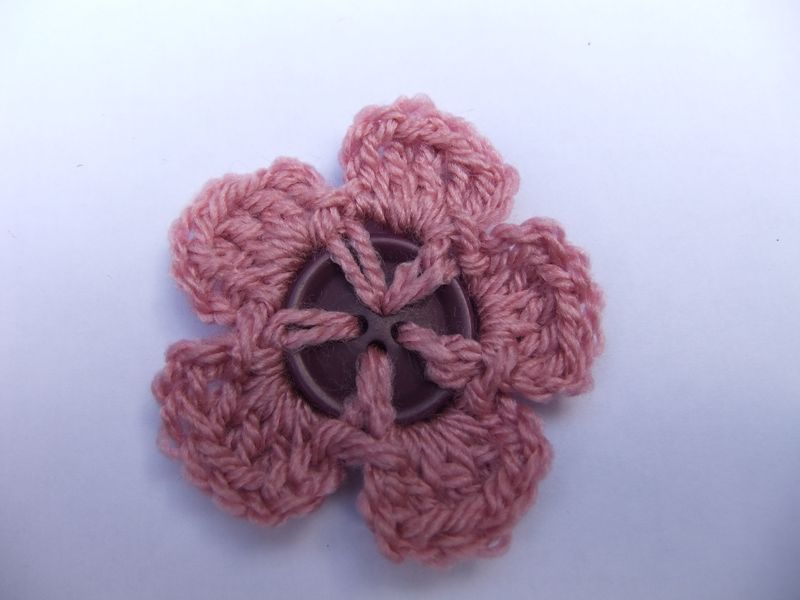 Finish off and secure your ends.
Like I mentioned that the start of this post: this isn't really a pattern: more to give you some ideas.  Play about with different sized buttons and with different crochet stitches to give different shaped petals.  Let me know how you get along: either here or on Ravelry.
Happy crochet!